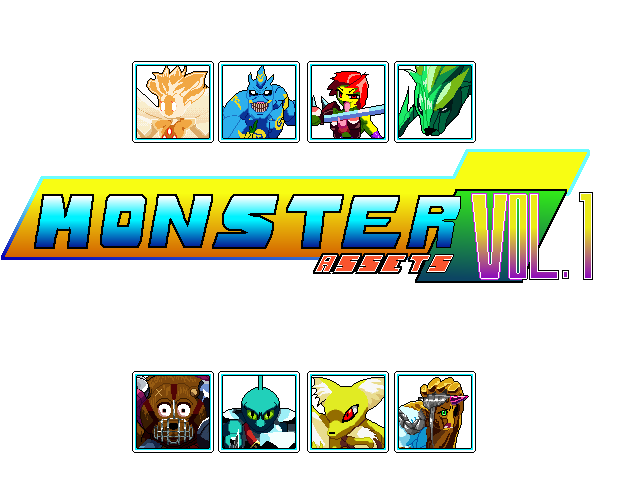 Monster Assets Vol. 1
Hey everybody! I haven't uploaded here in several months but I have not forgotten about it so I have decided to create an update. I'm not sure if I mentioned this before but I have decided on adding to this set of sprite art for "Monster Assets Vol 1.". There will be new monster animations and monster portraits.
The monster animations will take a considerable amount of time so I will most likely create the portraits first. I am also adding overworld and 32 bit sized sprites for potential character interactions that you might have in your games.
So you'll have portraits and little character boxes for your rpg's and what not. I can't put a release date on it because I have other projects going on at the same time and I plan to release all said projects at the same time for a profit.

In other news, the first game I release is going to be free, I won't announce the title here but I will however launch a poster for it in a few days. It's going to be a beat 'em up that I am developing in Godot. The character attack animations are almost done. I will also have purchased the rights to both the game and characters itself and the game dev name.
I'm almost done studying python so I will be able to work on it more diligently.
There is a manga that I am writing and drawing that will be released this year and I will also have a poster for in the next few days. It will be a bloody action comedy. As soon as I finish sketching the layout I will have a release date for it and I will release it in multiple online stores.
I have several pitches for multiple manga that I have coming down the pipe line and at least half of them will be video games, so the writing portion of the game will always be done and I can focus on the development of gameplay.

This is the plan I have hatched and I will continue to produce updates. This is my first dive into business so I WILL be a little off on the consistency of updates, but I will always be here.
So all in all I have a game on the way, a manga and I will update the Monster Assets in between all of it.
Stay safe and God bless!
Get Monster Assets Vol. 1